October 2019
This month we are featuring the book 'Malamander,' by Thomas Taylor
"If the impossible is possible anywhere, it'll be possible in Eerie-on-the-Sea."
– Malamander.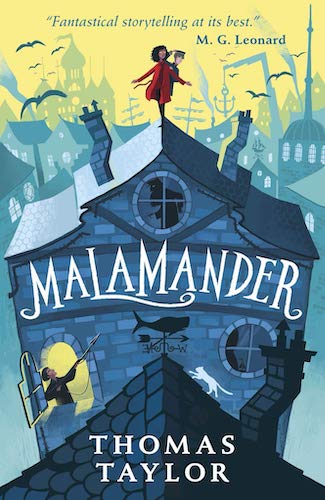 Our Students Review
"I have really enjoyed the book, Malamader, as it swirls with myths and secrets that grip you at every word. Thomas Taylor has excelled in his vocabulary choices and how he creates suspense in each chapter, to make you read on.
I think this book is definitely for children who love gothic mysteries, adventure and suspense. If I had to sum this book up, I would say it is thrilling, mysterious and gripping. I would recommend it to 8-10 year olds. This is a truly spellbinding story!"

⭐️⭐️⭐️⭐️⭐️ 5/5

Syra Jan – Aged 10
Wirral 11+ Academy
Book Synopsis
Nobody visits Eerie-on-Sea in the winter. Especially not when darkness falls and the wind howls around Maw Rocks and the wreck of the battleship Leviathan, where even now some swear they have seen the unctuous Malamander creep……
Herbert Lemon, Lost-and-Founder at the Grand Nautilus Hotel, knows that returning lost things to their rightful owners is not easy – especially when the lost thing is not a thing at all, but a girl.
No one knows what happened to Violet Parma's parents twelve years ago, and when she engages Herbie to help her find them, the pair discover that their disappearance might have something to do with the legendary sea-monster, the Malamander. Eerie-on-Sea has always been a mysteriously chilling place, where strange stories seem to wash up.
Synopsis – Waterstones
So, has our monthly book review left by one of our student's intrigued your curiosity? Would you like to read Thomas Taylor's book too? Then, whilst it's still part of our booklist which is integral to our 'Accelerated Reading Scheme,' why not request it as your next read.
<< September's Book Review: The Umbrella Mouse by Anna Fargher
The Unicorn Quest by Kamilla Benko: November's Review>>

11+ Academy | Wirral Eleven Plus | Tutor | Tutors | Tutoring | Tuition | Wirral | Near Me | Maths Year 4, Maths Year 5, Maths Year 6 | Verbal Reasoning | Non-Verbal Reasoning | 11+ CEM Exam